The best and worst content gating practices of the Top 200 CPA firms revealed here!
About once every year or so, I look at the websites of each and every top 200 CPA firm and do a "back of the napkin" assessment of strategic, marketing, and design trends. I also look at how CPA firm websites benchmark against inbound marketing, content marketing, and lead generation best practices of B2B firms.
Overall, I give the Top 200 CPA firms a collective grade of B-.
There's been years when I've given a (really, really generous) grade of D to the Top 200, so overall, I see a lot of improvement. But for many firms, here's the bad news: you've got a long way to go to make your website a more integral part of helping you grow your top line, particularly when it comes to lead generation.
The Good, The Bad, The Ugly
Here are a few observations that I'd like to share:
Website design has improved.
This is probably the area where I've seen the most improvement, particularly from the perspective of using best website design practices to give the visitor a better user experience. Many firms are opting for the "less is more" school of design, and their websites are truly delightful. Great visuals, easy navigation, large horizontal blocks, and more images than words.
Then, there are firms who still believe that there aren't enough words in the universe to adequately express just how fantastic they really are, and feel that it's a good idea to deliver their self-serving messages in 6-point font in clunky boxes or column format. If you are one of these firms, get thee to a website designer post haste!
Blogging has become the rule rather than the exception.
Firms of all sizes seem to have taken to heart the message that blogging is an important part of marketing a CPA or any other professional service firm. Many firms appear to be blogging on a regular, consistent basis using the thought leadership of partners and subject matter experts. There are huge upsides to blogging, and blogs are a great leveler when it comes to your firm's competition.
But even though there's significant improvement, there's still a way to go for many firms, like using their blog to covert readers to leads (more on this below), and avoiding using the blog for advertorial "news of the firm" purposes.
The era of "ME ME ME" is still strong and overbearing.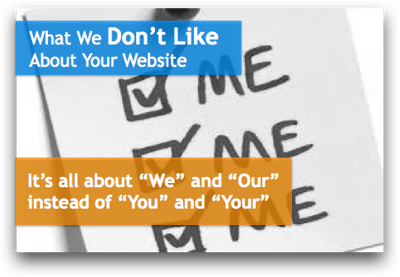 Many websites are making the mistake of telling the reader what they do, as opposed to telling them problems they can solve or assistance they can render around an accounting, tax, compliance, or business advisory issue.
If you have pages on your site that have a list of 10 or more "what we do" bullets, you haven't addressed a visitor's problem so much as you've published nothing more than a digital version of your sales collateral.
And here's one from the hubristic school of website design: there are a fairly large number of firms that feel that putting headshot pictures of partners on the home page of their website is somehow important to a prospect. Now I believe that it's alright to use partners on the home page in a sparing and tasteful manner, but sites that have a row (or rows) of partner pictures are simply horrific from a visitor's perspective.
Nobody is going to engage you to be their auditor because they like the fashion statement that partner Jim's glasses make, or are so motivated by partner Susan's really cool haircut that they'll be motivated to give you their corporate tax work.
What a waste of the most valuable territory on a web site!
The use of content is way, way up.
Beyond blogging, I am very encouraged to see that most firms in the Top 200 have taken content marketing to heart. They're publishing whitepapers, eBooks, articles, infographics, compliance alerts, videos, and a lot more on their site, and for the most part, the content is built around delivering thought leadership on a particular issue or topic.
But at the same time, I'm discouraged to see that there's only a handful of firms that gate their content and use it for "direct lead generation" by requesting the visitor to fill out a form and provide contact information before downloading. Instead, most firms publish valuable content in the belief that it will motivate a prospect to proactively contact the firm.
Hmmm… let's take a deeper dive on this issue of gating versus not gating.
Should Your Firm Gate its Content?
I believe that to a large degree, the issue of whether or not to gate is one of lead generation versus branding.
There are certain firms (and partners in those firms) who believe that content marketing is, in effect, branding, and that in conjunction with 1:1 marketing (referrals, networking, schmoozing), using free access content helps establish a differentiated brand in the market and is a stepping stone to new business.
Other firms—albeit a minority at this time—believe that content should be used directly for new business, and view the objectives of content marketing as lead acquisition and capture. They see the requirement of having a prospect fill out a form with their contact info as a type of payment for getting access to valuable information, as well as a payoff for the investment of time, resources, and money involved in creating the content.
Here's a list of pros and cons: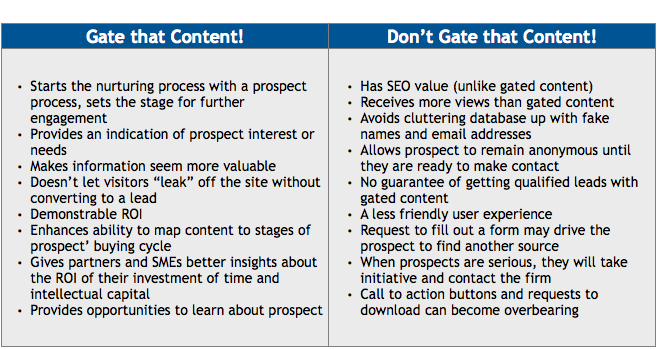 How CPA and Other Professional Service Firms Can Solve the Issue of Gating vs. Not Gating
I think you can see that there's no "right" answer to the gating or not gating issue, but the fact still remains that gating content on CPA firm websites is now the exception, and not the rule.
In the course of my research, I noticed firms ignoring what I considered to be great opportunities to gate useful, compelling, and well-intentioned thought leadership. I saw whitepapers on estate planning guides and checklists, massive industry survey results, compliance guidelines and tips, and many other tools which should have been gated because of their value and the obvious investment the firm made in their conception, development, design, and publication.
On the other hand, I saw cringe-worthy gating efforts, like the firm that tucked a brochure for their manufacturing industry services behind a form. I wonder if the partner that made the decision to take this route downloads sales brochures that require submission of contact information.
Hint: if you won't give up your name for a piece of sales collateral, neither will your prospects!
It's time to make a change built on a strategy of balance.
I believe that giving away all of a firm's intellectual capital in the form of ungated content is not a particularly well thought out content marketing strategy, and at the same time, I believe that not all content should be gated. If a strategy of balancing gated vs non gated content makes sense, how do you know what to gate or not gate?
A few years back, HubSpot published a flow chart which is a step in the right direction for making this critical decision: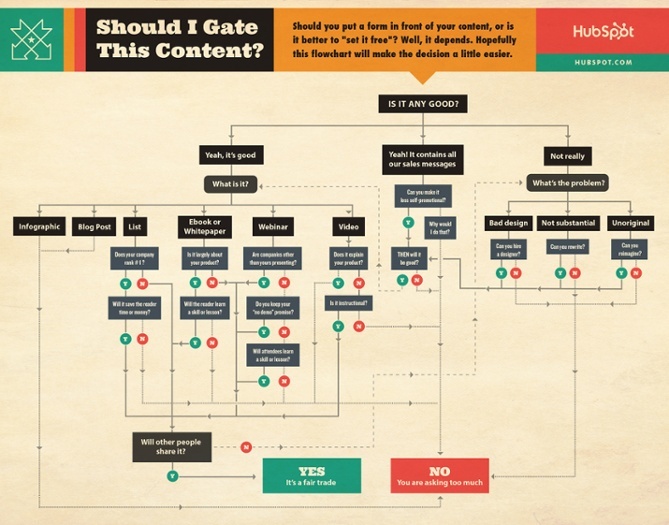 [Click to enlarge]
Source: HubSpot, Should I Gate This Content? [Flowchart]
How LeadG2 Approaches the Gating vs. Not Gating Issue
We take a very strong position that our clients' websites should be built around converting visitors to leads using gated content, but we also believe that not all content should be gated. While we want the site to be an ambassador for the brand and presented in a visually compelling way, we don't want visitors to leak off of the site without the opportunity to start a dialogue with the firm.
The best sites we've seen address how the firm can solve critical accounting, tax, or compliance issues, rather than serving up a laundry list of services.
Hint: you can publish your list of services by offering a download of a services brochure like, "Company XYZ's Services for Manufacturers" … Just don't gate it!
We'll start an engagement by compiling an inventory of content resources (published and unpublished) and then make a recommendation for content that can and should be gated. A key part of our recommendation is based on how content can be used as effectively as possible to build the brand using non-gated resources like case studies, testimonials and "how to" videos on technical accounting topics.
Generally speaking, the stronger the firm's brand, the less likely it is that we'll recommend an aggressive gated content strategy.
Often, we'll recommend aggregating some number of pieces into a new piece of gated content, especially if those pieces have already been published on the site in a non-gated manner.
I'll be talking about some of these issues in an upcoming webinar we're doing in conjunction with IndustryNewsletters in May of 2016. You can register for that webinar here, but if you're reading this piece after the webinar was delivered, check out our Resources page for a recorded version.
And if you would like to talk about your content marketing strategy with us, click here.