It takes a curious partner asking tough questions to do the tough job of aligning niche marketing and sales
efforts.
I know the meaning of tough.
It just happened last week when instead of smoking a very expensive cut of meat in my brand new smoker for 6 hours like the recipe called for, I kind of forgot, and 17 hours later, discovered I had created a meat hockey puck.
Rookie mistake.
Not only was the meat tough, so too was the look I got from Janice and the rest of my family when they found out their dinner choices had gone from "Spicy Sweet Apple Wood Smoked Always a Crowd Pleaser Brisket" to a choice of bologna on white bread with yellow mustard or a bowl of Cheerios.
Not only did they question my (fledging) role as our family's smoked meat guru, they asked a lot of tough questions, all of which dealt with things like "responsibility" and "accountability."
I shrugged off their criticisms as I dug into my bowl of Cheerios because even though I made a hockey puck, I found inspiration for this week's blog post about accountability and asking tough questions.
What Should the Role of Your Marketing Department Be at the Niche Practice Level?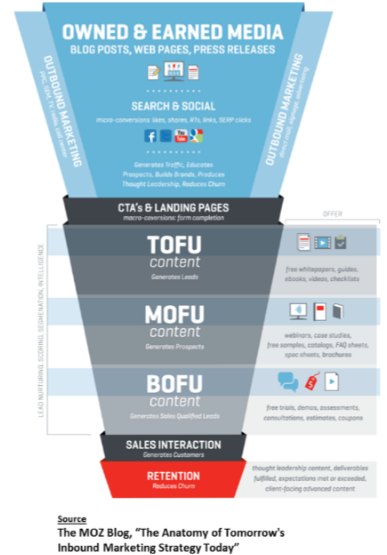 It's likely that your marketing department is being called upon to be a kind of "business development jack-of-all-trades:" branding, research, social media, proposal writing, event buildout and promotion… and the list goes on.
But when it comes to the niche practices in your firm, my belief is that marketers need to be laser focused on helping niche practice leaders design, execute, and manage the sales funnel, from research to lead acquisition to lead nurturing to lead handoff to monitoring.
I first wrote about this in a blog titled, "6 Ways that Marketing a CPA Firm Becomes More Effective Using an Online Sales Funnel" that you can read here.
Here's a quick sniff test to see if my perspective on the role of your firm's marketers makes sense: ask a niche practice leader how they want the marketing budget for their niche invested: building the brand or generating leads and new business?
Yes, I know, that was a trick question. But I gotta tell ya, after working with hundreds of niche practice leaders in professional service firms, I have yet heard one of them tell me that what's keeping them up at night is the need to spend more money on branding.
6 Tough Questions from You to Your Marketing Team
If your niche is focused on spending for growth and not just branding, looking to generate more leads, and is in fact deserving of marketing support, then you may be ready for a serious discussion with your marketing team.
Here are six tough but fair questions to bring to that discussion:
What's your plan for filling my pipeline with marketing qualified leads at the top and middle of the sales funnel, and sales qualified leads at the bottom of the funnel?

Wh

at are my competitors doing

from a marketing perspective,

and a

re we kicking butt or are we getting our butt kicked?

How are you going to measure the success and return on investment of what we're going to be spending on marketing the niche?
What strategies and tactics are you going to design and execute to build visibility for my niche?

How are yo

u

going

to monitor marketing and sales activities, and

progress

against

niche marketing and sales goals?

What

a

re you going to do to

build

my personal brand and the personal brands of my

subject

matter experts?
All of these questions assume that you, dear niche practice leader, have a degree of professional service firm marketing literacy and that you're curious about marketing. Do you know, for example, the difference between a MQL and SQL and how and why that difference matters when it comes to structuring strategies and tactics, and allocating budget?
If not, it's probably prudent to spend some time increasing your literacy in order to have a productive dialogue with your marketers. You can find a few resources here that can help you to this end.
Exploring New Ways Together
We're in a period of rapid transition and change in CPA firm marketing and well as in other professional service firm marketing that's being driven by new ways that prospects are finding and reaching your niche practice. Where your niche practice was once in charge of marketing and controlling the messages to prospects, things like SEO, SEM, social media, and content marketing are disrupting (but not replacing) 1:1 marketing efforts by partners and business developers.
On top of all of this, marketing technology continues to explode.
Understanding and managing this transition requires a team effort. The days of marketers being nothing more than button pushers and the days of disengaged partners who aren't involved in marketing are going away.
It's time to change the discussion and the ground rules for partner/marketer interaction, and that change can best be effected at the niche practice level. It's time for both to explore new ways of getting more visibility, leads, and new business, together.
In the meantime, I'll continue to explore my new role in the kingdom of meat smoking. In fact, I've been looking for a recipe of how to turn meat hockey pucks into delicious beef jerky. Just in case that doesn't work, I've laid in a supply of Slim Jims.
Next week: "6 Tough Questions from Your Marketing Team to You"