Large competitors may outspend you, but don't let them outthink you!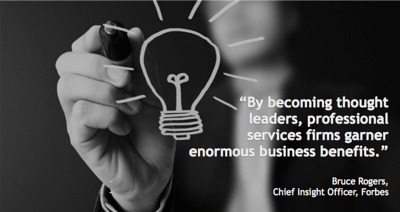 While it may not be possible to outspend them, it is very possible to outthink your larger competitors by packaging, publishing, and promoting the thought leadership of your firm's subject matter experts. The goal: use the thought leadership of your firm's subject matter experts to get more visibility, generate leads, and ultimately, generate more new business.
What is Thought Leadership?
We are not suffering from a lack of definitions of what thought leadership is (see, for example, 21 Definitions of Thought Leadership), but I can't but help add my voice to the chorus.
My take: Thought leadership is the writing, packaging, publishing and promotion of a subject matter expert's unique take on a topic of interest to clients and prospects for purposes ranging from building a personal brand to new business acquisition.
In effect, if you are a small to medium-size professional service firm or niche practice, you can level the competitive playing field with your thoughts about issues ranging from the impacts of regulatory or legislative change, to industry trends, to your take on a piece of industry news that affects your clients and prospects. In fact, you might want to check out one of our blog posts, 156 Blog Post Ideas for Your Company's Blog, for some ideas that can get your creative juices flowing.
If you need some encouragement or motivation about building a thought leadership program, consider these ways about how and why thought leadership levels the playing field:
It creates differentiation by virtue of the fact that your perspective and take on an issue will be independent and unique.
With consistency, and over time, packaging and promoting thought leadership is the key to building a personal brand.
The thought leadership/personal brand/subject matter credibility connection is a gateway to members of the press seeking insights on breaking news and trends.
Published thought leadership, particularly in the form of blog posts, will raise the subject matter expert's visibility and secure 1st page rankings on search engines.
Clients and prospects will pay a higher premium in fees for perceived expertise, and published thought leadership is a way to turn their perception into reality.
Thought leadership can be a means to enhance existing relationships with clients and referral sources, and serve as an entry point for creating new relationships.
Thought leadership serves a dual purpose of educating clients, prospects, and referral sources while concurrently creating credibility and purchase-decision comfort with decision makers.
Published thought leadership creates opportunities for the subject matter expert to become part of the conversation early in the buyers' journey.
Published thought leadership is a fundamental part of a content marketing strategy based on driving new business by sharing ideas rather than selling services via sales collateral.
Published thought leadership creates opportunities for building connections and relationships via social media channels.
Published thought leadership creates opportunities for securing speaking engagements or opportunities to author articles for industry publications.
Published thought leadership can be useful when recruiting new employees, as it creates credibility as they consider employment.
How You Do It: The Basics of Using Thought Leadership
Marketing the thought leadership of subject matter experts as a means to get more visibility, leads, and new business for the firm can get very sophisticated.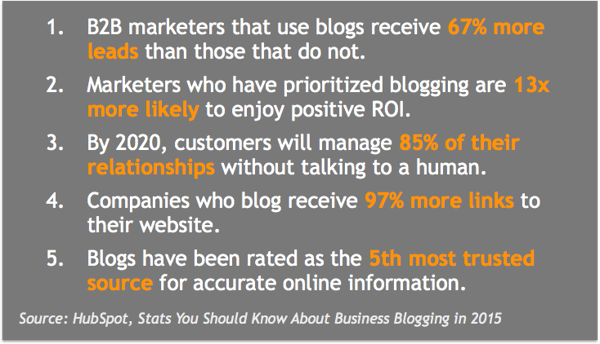 But you need to crawl before you can walk and run, so start with these basics and build upon them as resources and budget permits.
You need to identify target personas and their perspectives, motivations and interests relative to what you're selling.
You need a keyword strategy that defines search terms your personas might use when seeking information.
You need to place a blog on your website that is searchable.
You need a blogging strategy that includes titles, publication frequency goals, and a publication schedule.
You need to promote blog posts to get as many eyeballs on each post as possible, using a combination of email and multiple social media channels.
You need to have two or more pieces of "premium content" built on a foundation of thought leadership, like a whitepaper or eBook that can be used as an offer for purposes of lead generation.
You need to promote each offer using a variety of channels, a way to capture leads, and a way to fulfill the request.
How You Do It: the Walk and Run Stages of Leveraging Your Firm's Thought Leadership
Beyond the basics, you may want to consider using marketing technology like HubSpot for the fundamental infrastructure that will enable you to publish and promote blog posts, promote offers for lead generation, and capture and fulfill requests.
After crawling, there's a world of more advanced marketing technology and capabilities to consider, like marketing automation and CRM to mention a couple.
Regardless of whether you're just getting into strategies and tactics for leveraging thought leadership, or are on a more mature tract, there's two common denominators that will ultimately drive success: commitment, and a willingness to invest resources—time and budget—to the effort.