Seize the Day by Starting with the Cornucopia of Blogging Opportunities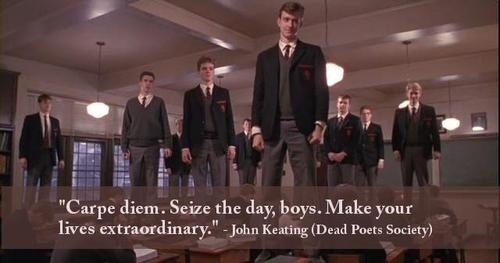 Do you remember that great movie with Robin Williams where he played a teacher at a prestigious boy's school in the 1950's?
There's a scene in that movie—Dead Poets Society—where John Keating, the teacher (Williams), takes his class of stiff, scared, don't-rock-the-boat students out of the classroom and into the hallway. There, he stops in front of a trophy case where he dramatically encourages his class to make their lives extraordinary. To seize the day … Carpe diem!
I like to bring this message—seize the day—out to CPA firm partners when it comes to making the marketing of their niche practice extraordinary. There are so many opportunities to be extraordinary by virtue of the fact that there's a never ending supply of tax, regulatory, operational, and fiscal management change ripe for use in new business.
Is it time for more carpe diem in your firm's marketing program?
Top 10 Business Regulatory Issues for 2016
When it comes to accounting, there seems to be a never ending supply of hot issues or topics where firms can showcase their thought leadership for purposes of branding and/or lead generation.
A few months back, Accounting Today published a list of the top 10 regulatory issues identified by Paychex ("Paychex Lists Top Business Regulatory Issues for 2016"). If your firm offers business advisory or regulatory compliance services, this list is a goldmine of new business opportunities.
Adjusting pay practices relative to minimum wage increases, equal pay laws, and sick pay laws

Affordable Care Act Reporting impacts and compliance deadlines

Changes to W-2 employer deadlines and earlier reconciliations

Classification of workers

Collection of online sales tax by states regardless of physical location

Compliance with new OSHA injury and illness record keeping and reporting

Compliance with privacy and security laws and regulations

Credit card liability shift to merchants resulting from shift to credit card chip technology

DOL standards regarding selection and monitoring of retirement service providers

Identity theft relative to personal tax information

Overtime Regulations—salary thresholds for executive, professional, and white collar exemption
Use Your Blog and Make Some Carpe Diem
There are quite a few ways that you can turn regulatory change into leads and new business opportunities. You can add dedicated webpages to your site built around a searchable keyword phrase that incorporates the issue. You can create a product and promote it using online and offline tactics. You can develop a webinar, put fannies into seats, and follow up. You can publish and gate a white paper. You could use paid media—online and print—to promote your solution.
And, you can do some blogging.
Here's a roadmap that can help you use your blog to capitalize upon these new opportunities. Done correctly, you could very well realize benefits ranging from more visibility for a subject matter expert's personal brand to high search engine rankings to conversions of blog post readers to leads.
Step 1: Assign a subject matter expert to an issue.
Step 2: Build in some accountability, requiring that SME to write 4 to 6 or more posts about the issue during the year.
Step 3: For each issue, brainstorm 15 to 20 blog post titles, and then narrow that list to 4 to 6.
Step 4: Put together a publication schedule. There's one from HubSpot that we recommend, "How to Create an Editorial Calendar." It's a free download that you can get here.
Step 5: Write and publish the post. If you have a gated offer relevant to the topic of the post, make sure it's inserted in the body.
Step 6: Promote the post using means from social media to email to e-newsletters.
Things Didn't Turn Out so Well for John Keating and Neal Perry but …
I know, I know.
There's going to be readers of this post that are going to say, "Hmmmmm. Carpe diem didn't work out so well for John Keating and Neal Perry. One got fired, the other got dead."
"That's not quite the route I want to personally take when it comes to marketing my niche."
Now I'm not suggesting that you seize the day by running through the office shrieking, laughing ("THE NEW REGS ARE HERE!!! THE NEW REGS ARE HERE!!!") and wildly waving your arms when you have that moment of epiphany that there's new business to be had from helping clients and prospects with a brand new compliance requirement.
That could possibly get you fired.
For CPA firms, blogging is the best way to seize the day, especially if you are the first to publish your thought leadership. It's a professional, tasteful, and appropriate strategy for doing marketing that your competitors, in all likelihood, will not be doing.
It's that combination of timeliness, opportunity and your SMEs' thought leadership capabilities that can make seizing the day a hallmark of your firm's marketing program.