Are You Using Video in the Sales Process?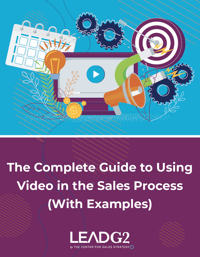 Salespeople have an opportunity to create a more personal connection with leads.
Cold outreach doesn't have to be cold. Video is one of the most efficient and effective ways to add warmth to communication with potential customers or clients.
When applied to engaging inbound leads and building relationships after initial sales, a personalized video is more likely to stand out. In this eBook, you'll find real-life examples of how to use video, plus have the opportunity to deep-dive into each step of the sales process.
This eBook provides:
Video examples of how to use video in every step of the sales process
Different types of videos to use during each step
Commonly overlooked points of each step in the sales process
Complete the form to access it now!