Try our handy little tool that can help your CPA (or other professional service firm) allocate a marketing budget for maximum results.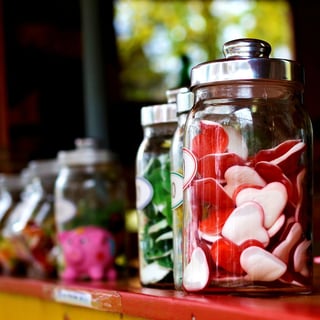 I've got $.25 in my pocket, and I'm having a life crisis down at the corner grocery store.
Put it all into a staggering amount of penny candy? Buy a comic book or two? Go for a big candy bar and a soda?
It wasn't all that often that I got this windfall, but in addition to getting a bagful o'goodies, I'd get a lesson in budgeting and budget allocation, and as I think about it, a lesson in prioritizing based on objectives.
For professional service firm marketers, today's "candy case" is the staggering amount of choices they have when it comes to marketing tactics. Instead of agonizing over the age-old licorice versus Tootsie Roll dilemma, the challenge for marketers and partners is all about how/where/when and why to allocate the budget.
Do you use it to get the firm more visibility (branding), more leads and new business, or try to do both?
Definitions and Expectations—Getting on the Same Page
Before we dive into exploring the questions of how/where/why/when to allocate a marketing budget, let's set some definitions and expectations.
First, let's talk about visibility. Here, I'm referring to how well known your firm is in your key markets – whether geographically or within a vertical niche. You can commit budget and hire a market research firm to give you the answer, but not many CPA, consulting or other professional service firms have an appetite to spend money to get a definitive answer.
So, it's time for a SWAG (scientific wild-assed guess).
Intuitively, if you're constantly in the business, general public or trade press; see year after year growth in number of visitors to your website; exhibit at trade shows; or continually play a featured role at conferences; it's pretty likely that your firm enjoys high visibility and has a strong brand.
When it comes to leads, it's a lot easier to quantify. When I refer to a lead, I'm talking about a prospect that's in your sales pipeline because they have engaged with your marketing efforts ... not just a suspect or a name on a mailing list. That means they filled out a form for an offer, or attended a webinar, or open your emails or newsletters.
There should be no SWAGing here... you either got leads, or you don't.
Put Your Bucks Where They'll Do the Most Good
Here's a simple, yet elegant tool you can use to help shape your marketing budget: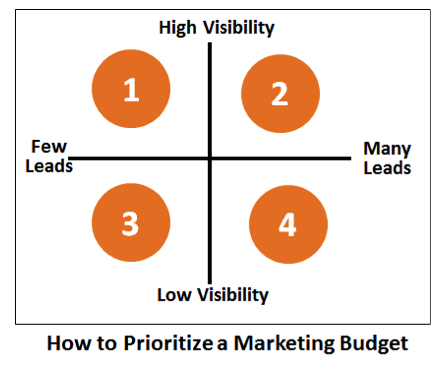 Quadrant 1: High visibility / Low leads
If you fall into this quadrant, you can focus budget on resources on a wide variety of lead generation tactics instead of brand building. For example, consider using budget for redesigning the website for lead gen, content marketing, SEO, or paid media.
Consider this allocation: 20% branding / 80% lead generation
Quadrant 2: High visibility / High leads
Congratulations! You've reached a highly desired location and it's likely that you're making your competitors weep and moan. Now, it's time for refinement using analytics as a measuring stick for making continuous improvements that will serve to maintain your position at the lowest possible cost and greatest ROI.
Consider this allocation: 50% branding / 50% lead generation
Quadrant 3: Low visibility / Low leads
Oh no ... this isn't the place you want to be. If you're in this quadrant your budget is either too low, or it's time to fire the marketing team. You'll need a plan and budget that will get you out of this quadrant over time and my suggestion is that you start with an investment in a website built on best inbound marketing practices.
Consider this allocation: 35% branding / 65% lead generation
Quadrant 4: Many leads / Low visibility
It's likely that firms that fall into this quadrant have arrived there as a result of the personal brands of some number of older partners who have built their reputation over a number of years. In effect, it's not the firm that has visibility, it's the partner. The danger here (as firms will increasingly find out as their baby boomer partners retire) is that cults of personality don't make for a particularly good marketing strategy. It's time to shift budget into building the firm's brand.
Consider this allocation: 80% branding / 20% lead generation
Setting the Budget Starts with Setting Goals and Objectives
Once you decide which quadrant is most appropriate, it's time to start figuring out how much budget you'll need. That begins with defining quantifiable (and measurable) goals and objectives.
If branding is your need, then you might think in terms of eyeballs. That is, the number of suspects or prospects in your target market that you want to reach. For example, there's a difference between a goal of reaching 1,000,000 eyeballs or having a goal of reaching 100,000 in terms of number of channels and frequency needed, and that difference will be reflected in your budget.
From the perspective of lead generation, budget needs to be tied to sales objectives. The questions are, how many leads do we need to reach our new business goals and what do we need to do to move those leads into our sales pipeline?
For example, reaching a goal of $4 million in new business will require more budget than a goal of $1 million. Furthermore, if you have a growth goal of $4 million and your average sale is $40,000, that means you'll need to add 100 clients to your roster. If your average sale is $400,000, that means adding 10 new clients. Both goals will require an investment but it's likely that the budget you set for lead generation will be different for each because of the numbers of tactics needed and the frequency of their execution.
You Can Have Your Candy and a Comic Book, Too.
If you're in the budget process, you can and should do budget allocation for both branding and lead gen, but in a manner that's consistent with making decisions based on needs and not just available tactics even though there's plenty to chose from in the candy store. In other words, goals and strategies first, tactics last.
Your allocation is never going to be perfect and there will always be consequences – good and bad – to choices made, just like the consequence of trading Spiderman #1 for some baseball cards.
(Oh yes I did.)
When I found out that the record sales price for that issue was over $100,000 I went to take solace in a bag of penny candy. Exactly when did penny candy become $5 a pound????