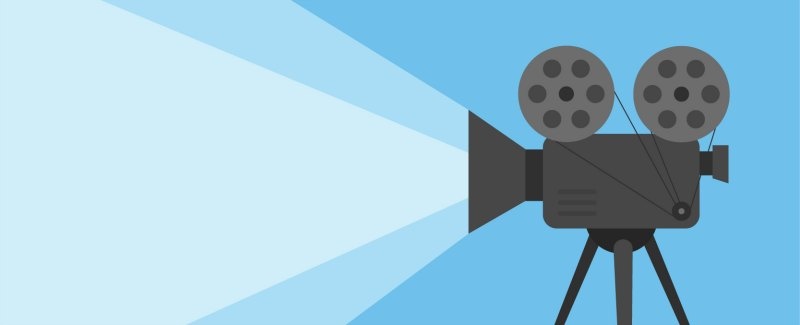 KPMG's Lessons on Video Done Right for Professional Service Marketing
The other day, I was on a news site.
The more I read, the more serious thought I gave to going offline, finding a mountain peak, and meditating 24 hours a day. But just as I was about to carve a sturdy hiking stick, an ad appeared that caught my attention.
It was from KPMG, a worldwide accounting and business advisory firm that does a shade over $25 billion a year in sales ($9 billion in the US), with a staff of only 189,000.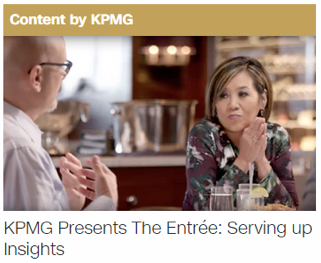 One click and I was taken to a video on artificial intelligence that was part of a video library called "The Entrée."
Before you give one more thought to going into video, or before you start on your next one, I suggest you stop and look at video marketing done right.
What's the Entrée?
If your firm's management still isn't convinced about the value of including video in your marketing communications inventory, there's a terrific benchmark report from the folks at Vidyard that's a must read: 2017 Video in Business Benchmark Report.
But this blog post isn't about the benefits of video.
It's my take on what KPMG is doing right that you can use in your video efforts.
The Entrée is a library of (currently) seven 3-minute-or-so videos on business topics like artificial intelligence, business transformation, cybersecurity and more. Through 2016, KPMG secured about 4,100 viewers per video — but that number has substantially dropped in 2017.
Each video consists of a moderator hosting a mix of four or five KPMG professionals, clients and subject matter experts having a conversation about an intriguing business issue or topic — not a lecture on tax code or regulatory compliance or pending regs or legislation. They're set in places like restaurants or coffee shops (rather than offices or conference rooms) and the production value for each video is extraordinarily high.
They even post the transcript of each video on their website!
Key Takeaways for Your Marketing Efforts
The Entrée is a first-class effort by a first-class organization that obviously has the budget to go big. It's not perfect — for example, they're not flighting the videos in an optimal way. It's pricy, and the entire effort has a lot of moving parts that require sound planning, attention to details, and logistics planning that's fairly complicated.
You might be thinking, "how can we possibly compete with this effort given that KPMG is 500 times our size"?
Here's the rub — other than spending more money on producing this video series than you have in your entire marketing budget, there are still valuable lessons you can glean. And the best part?
They're free.
Here's what you should take away:
Think long term and about the value of a branded "library" of videos with the same signature creative and executions.
Don't skimp on production and editing.
Have a well designed and executed storyboard.
Make the topic interesting and compelling, delivered in an interesting and compelling way.
Do something else than "talking head."
Be subtle when being advertorial — you don't always have do direct lead generation with your videos.
Promote everywhere — onsite and in social channels. Check out the Entrée's Twitter feed for example. In fact, develop a consistent tactical plan for promoting each video where you're leveraging all the digital assets you have at your disposal.
Be consistent, dedicated, and committed rather than just launching a "one off" effort.
Invest in retargeting to get your video in front of the right target.
Pay attention to using video as part of your SEO strategy.
Keep it short and sweet.
Stop Before You Shoot!
Frankly, most of the videos I've seen from marketers at CPA, consulting, law, and recruiting firms have been terrible, like one I recently saw from an accounting firm on debt ... poor production shot on a phone, a sleep inducing presentation from an unkempt professional, a boring topic presented by a talking head that took up about three minutes of my time that I'll never be able to recover. That video reflected reflected poorly on the firm, the on-camera thought leader, and the marketers behind the effort.
Video is a promising tool for professional service firms, but like any marketing tool, it needs a just-right combination of strategy, creative, production and promotion to be effective.
It need to be significantly more helpful than advertorial.
It needs to be part of a digital marketing and communications strategy rather than a spur of the moment idea shot and produced on a phone.
Before you post a video, I urge you to answer this one question: will your prospects be willing to give up a few minutes of his or her life to view this video?
Maybe that's the best lesson from The Entrée — if you can't be creative and compelling even with technical subject matter — then put your camera away and find a different means to deliver what may very well be an important and necessary piece of information.
Have a video you'd like critiqued?
I'll be happy to take a look and give you my comments when I'm finished mediating and have come down from the mountain peak.