Start a New Season with a New Promise for More and Better Leads, and Faster Sales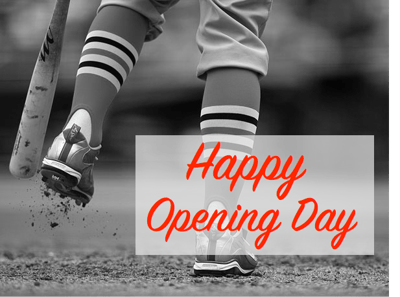 When I was a kid, my Dad would play hooky from work and take me to the home opener of the Triple A Buffalo Bisons baseball team. Oddly enough, I seem to remember that with a note, the public schools in Buffalo would excuse you for the afternoon so you could go to the game.
Opening day in Buffalo could be a pretty dicey proposition from a weather perspective, and there was a pretty good chance that the game would either be played in a blizzard, or at temperatures that hovered around absolute zero.
But to get a warm-at-best-hotdog, a (really, really) cold pop, and the chance to see some minor league ball played by guys dressed up in what was most likely every single piece of clothing they owned was a not-to-be missed event.
Plus, I got to get out of school for an afternoon!
There was also an issue of alignment at play between my mother and father that ended up in a negotiated agreement about how I would go dressed to the game—in a cool way, wearing my Buffalo Bison cap, Buffalo Bison warmup jacket, and Buffalo Bison socks, or bundled up in so many articles of winter clothing that I ended up looking like the Stay-Puft marshmallow man with just enough room for eye slits so I could watch the game.
As you might imagine, this alignment and the subsequent agreement was usually decided in favor of my mother. But there were times when Dad did pull the scarf away from my mouth so I could take a bite of hot dog.
Go Bisons.
What is Marketing/Business Development Alignment, and Who Gets First at Bat?
For most professional service firms, I think we're coming into a new season where alignment between marketing and business development is at hand, particularly for CPA firms who will shortly be coming out of tax season.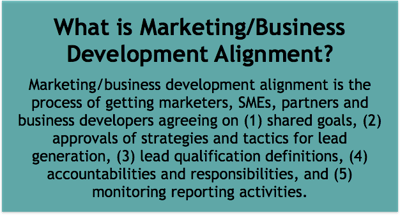 This new season brings new opportunities for thinking about—and acting on—the ways that your firm's marketing resources can interact with the partners and/or business development team around a common goal of growing the firm's top line. There's a good chance that your firm has a lot of the infrastructure in place to put alignment into motion, but it will require a combination of direct and indirect out of pocket expenses, and for most professional service firms, this means that a serous discussion of the benefits of alignment versus the costs of alignment is necessary.
I'll be tackling the costs of alignment in a post a bit further down the road, but let's talk benefits first.
My experience with professional service firms is that marketing/sales alignment is quite the exception, not the rule. Today, in most firms, I see marketing resources being used in a reactive role. In an alignment, those resources work in a partnership with sales and business development in much more of a collaborative and proactive role.
The Benefits of Marketing/Business Development Alignment for CPA, Consulting, Staffing, and Other Professional Service Firms
In my opinion, there are five things that your firm can realize from making an investment in aligning marketing and sales activities and resources:
Team building:
Michael Jordan once said, "talent wins games, but teamwork and intelligence win championships." I can't think of a better way to express what might be the key benefit to why firms should invest in making alignment happen.


Efficiency:
At the heart of marketing/sales alignment is an efficient process for moving leads into the sales pipeline: Assessing whether they are marketing qualified prospects, and then, nurturing them to becoming sales qualified prospects and, ultimately, a new client. This process is repeatable and its regularity is the basis for efficiencies and economies of scale.


Respect:
One of the biggest issues in the current relationship between marketing and sales (particularly partners) is the complaint that marketing is delivering poor quality leads that are wasting partner time and keeping them from billing. In the right alignment structure, leads are "scored" and only turned over to partners and sales resources for one-to-one interactions after a certain scoring threshold is realized. Note, this does not apply to referrals, word of mouth or over the transom leads that are most likely at a stage where they are interviewing firms to solve a specific problem.


Visibility:
Another benefit to alignment is that it's built on a foundation of visibility, realized through continual measurement and reporting of results. This is not only for marketing efforts, but also, for sales activities.


Cost effectiveness:


This benefit comes from two perspectives. First, as mentioned above, the right alignment structure can result in efficiency and cost effective use of partner's un-billable time. Second, the visibility of results and measurements through various metric and analytic tools creates opportunities to direct marketing and sales resources towards those strategies and tactics that show the greatest level of positive results, and allow for unproductive activities to be modified or eliminated.
It's Snowing in Buffalo
So here it is, the beginning of April, with the Bison's opener about two weeks away. The forecast calls for snow all this week. Maybe just maybe, that will give the diehard Bisons fans hope that by April 14th, they won't be playing in a blizzard.
I'm sure however, that mothers and fathers will still go into an agreement and come away with an alignment about how to dress their kids for the home opener. If you happen to catch that game, and see hundreds and hundreds of kids bundled up like the Stay-Puft guy, you'll have a pretty good idea of how alignment issues are handled in that particular family.
Go alignment.