Your Competitors' Client Roster – AND YOURS – is Vulnerable
Accountants, lawyers, consultants, and asset managers know how difficult it is to retain or acquire new, desirable nonprofit clients … especially ones that won't leave the flock because of a competitor's lowball pricing. It's a good day when a firm lands a new engagement or contract for a big (signature) nonprofit, foundation or endowment fund, or successfully fends off aggressive competitors seeking to mine your client roster.
Think Your Client Roster is Safe? Think Again.
If you think that your client roster is safe, you may want to consider this research cited by CPA Practice Advisor in an article called Three Trends that Will Transform Your Accounting Practice in 2016:
"Accounting firms are beginning to feel pressure from their clients to engage in new and different ways. In fact, 75 percent of clients are looking for new accounting firms because they don't think their current firm is as engaged as they should be."
My sense is that this rings equally as true for lawyers, management consultants, and asset managers as it does for CPAs. For example, Ronald Baker and Paul Dunn wrote a book called The Firm of the Future: A Guide for Accountants, Lawyers, and Other Professional Service, where they cite that the top three reasons why clients leave are failure to treat them right, being ignored, and lack of cooperation.
If you're going to aggressively market your services to choice nonprofits, foundations and endowment funds, I've just provided you the basis for your strategy: delivering more engagement and better treatment. This also works the other way—if you're looking to protect your client roster, you've got to be more engaged and treat your clients better.
7 Top Marketing Strategies and Tactics for Client Growth and Retention
Regardless of whether you're on offense or defense, you need to be smart about marketing to nonprofits, foundations, or endowment funds. I've put together a list of 7 different strategies and tactics that can help you grow and protect your NFP niche practice.
1. Add Value to Your Contract by Helping Them Solve Their Biggest Problem: More Revenues
If you are a professional service firm, it's likely that your core service will not be directly related to fund raising. It's also likely that you're supporting your clients with some kind of direct contribution—a check or donation of services—to support their cause. But that's become an expectation, and frankly, what you may be doing is no different than what any of your competitors might do. What if you could help you clients with a program that helps them get more revenue from their galas, dance marathons, golf tournaments, wine tastings, and the like?
Recommended Tactic: Check out the Event Sponsorship Revenue Accelerator program from The Center for Sales Strategy. You underwrite and market the program to nonprofits, foundations, and endowment funds. Then, using workshops and 1:1 coaching, CSS teaches your clients and prospects how to get more donors and more revenue per donor from their signature fundraising events.
2. Become More Visible
If you don't enjoy top-of-mind awareness in the minds of your clients and prospects, you'll want to consider making an investment in having your firm and your subject matter experts become more visible. There are quite a number of different tactics for achieving visibility, from paid advertising to public relations to sponsorships like the Accelerator.
Recommended Tactic: My favorite visibility/awareness tactic is active, continual participation in relevant associations which, in effect, lets you fish where the fish are. Active participation means a lot more than just attending events or meetings—it's about serving on committees, presenting on educational topics, and knowing the fundamentals of networking.
3. Build the Personal Brand of Your Subject Matter Expert
Branding is all about being perceived the way you want to be perceived, and perception is the gateway to engagement. Your firm needs to consider branding tactics at both the company and subject matter expert level that can include initiatives like paid print or digital media, social media engagement, interpersonal engagement and more. It's important to remember that brand perception is stronger when earned, rather than bought.
Recommended tactic: Hands down, blogging. Today, the marketing of professional services is built on publishing and promoting the thought leadership of subject matter experts and there's no better vehicle and no better way to do this than through blogging. A blog not only builds a personal brand, it's a means for getting visibility in search engines and a mechanism to deliver offers for led generation.
4. Increase Your BOFU Marketing
BOFU is an acronym for "bottom-of-the-funnel offer"—the point at which a prospect is done with research and is looking for a company to provide the services or products they need to solve the problem or issue they have. A BOFU can range from offering a demo to a free trial or consultation to financial incentives like discounts, and more. BOFUs work best when they are presented at the exact right time in a prospect's buying cycle.
Recommended tactic: Complementary benchmark consultation. Clients and prospects like to see how they benchmark against competitors and industry standards on tax, finance, compliance, asset management, operational management, financial ratio and a host of other metrics. Offering a benchmark report and consultation is a way to provide added value, establish your industry leadership, and identify areas where your firm's services can be the solution they're seeking.
Check out this popular blog post: "Align Your Firm's Online Marketing Strategy to the Bottom of the Sales Funnel."
5. Get Found First
A statistic that's often cited by marketing gurus is that "81% of B2B purchase cycles start with web search and 90% of buyers say when they are ready to buy, they'll find you." That means that it's a virtual inevitability that when a nonprofit, foundation, or endowment fund is looking for a professional service, they'll turn to the web. When they conduct that search, getting found first is a critical step for delivering your brand message and your thought leadership.
Recommended tactic: Invest in Search Engine Optimization. It's tough to drive visitors to your website when they do web searches without first page rankings. Consequently, a prudent investment is to engage an SEO consultant to help you identify and execute a key word strategy. However, too many firms try to do this cheaply, rather than effectively, or fall victim to SEO scammers promising first page rankings. Vet your choices carefully!
6. Fill the Top of Your Sales Funnel with Offers Built on Thought Leadership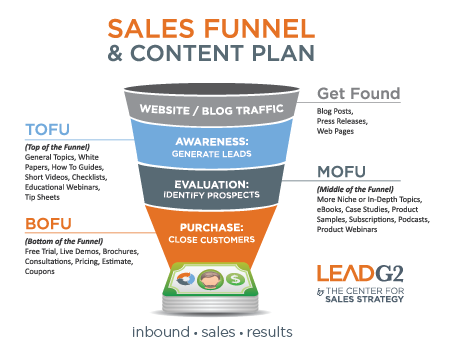 Having a dedicated (and funded) strategy for growing and retaining your NFP book of business using thought leadership is now a necessity, not a luxury, for professional service firms. This strategy, and the variety of different tactics that can be used for its execution, is based on the concept that the beginning of a relationship with a prospect should be as non-advertorial as possible, and the best way to do that is through offers for the firm's thought leadership on various topics.
Recommended tactic: Whitepapers. I am a big fan of packaging and promoting non-advertorial thought leadership into whitepapers. But I'm even a bigger fan of selectively gating these whitepapers for lead generation. Although they can be a labor of love to write, produce and publish, whitepapers will generally have a long shelf life and can be repurposed for blogging, drip campaigns, mini-articles and more.
7. Don't Drop Leads
This seems like a no brainer as a way to acquire new business, right? After all of the hard work your firm has done and the investments they've made, it's a shame when a lead isn't pursued. It's true that most leads may not be ready to purchase, and that some number of them may not be qualified, but that doesn't mean that they should be dropped. That means they should be nurtured!
Recommended tactic: Lead scoring, workflows and marketing automation built within a CRM. This is all about "minding the store" and having the tools and technology to continually engage with a prospect once they've shown an interest in your services.
Check out this popular blog post: "107 Mind-Blowing Sales Statistics That Will Help You Sell Smarter."
Or, You Can Simply Lower Your Fees and Margin
Of course the last way you can build you practice is by lowballing your competitors when it comes to fees. After all, in a competitive situation, some firm will always be the low price solution, right?
The danger here is built upon the certainty that what goes around, comes around, and if you're playing a pricing game then you're subject to the same vulnerabilities as your lowballing competitors.
On the other hand, you can bring a huge value added program to the table. Or become more visible. Or use the thought leadership of subject matter experts for branding and lead generation purposes. Or even simply do a better job when it comes to lead acquisition and management.
The bottom line is that there are ways that you can maintain your fee position and acquire (and retain) the types of nonprofits, endowment funds and foundations that are good for your business, good for your clients, good for your community, and good for your client and projects' beneficiaries.