Inbound Marketing Can Make Your CPA Firm's Rising Stars Rise Faster and Higher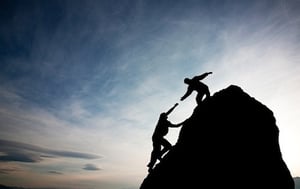 For senior partners and HR Directors, there's no sound quite as disheartening as that of the door closing behind a rising star for the last time as they leave your firm for greener pastures.
You went though the process of GIVING THEM MORE—more salary, benefits, a bigger office, a promise of a supervisory role, a parking space, vacation—and that didn't work. You laid out a step by step plan and path to partnership, and talked up the promises of being a partner, but somehow the costs of those 70 hour weeks and all work/no play realities just didn't warm the cockles of their heart. Maybe you took all of the "How to Manage a Millennial" training (hope you got some CPE) but lost your edge when the baby boomer in you leaked through during your discussions.
(That happens to me all of the time … regardless of what my millennial co-workers believe, I still say that Eric Clapton and Jimi Hendrix are the best guitarists ever.)
Here's a thought: maybe what that rising star wants from the firm in order for them to stay is marketing help to make their star rise higher and faster, and perhaps even easier. On a practical level, this means providing that star professional resources to develop a personal branding plan and the marketing resources to bring their plan to life.
Inbound Marketing as Part of a Retention Strategy
Taking that thought one step further, maybe it's time to think about how to use inbound marketing as part of your retention strategy. Give those rising stars resources and budget for developing, publishing, and promoting content showcasing their thought leadership. Give them a seat at the table when planning a lead generation campaign. Share marketing metrics and analytics. Give them an easy-to-use CRM to help them align marketing with business development.
Here's a brainstorming kit, built on the foundation of the inbound marketing methodology that you can use to craft that retention strategy:
Brainstorming Kit: Using Inbound Marketing in a CPA Firm's Retention Strategy
Inbound Marketing Methodology
Marketing Resources You Can Give to Your Rising Star
More Visibility

Put their bio on your website and optimize it vis a vis your firms keyword strategy

Help them develop and publish blogs: 2 to 4 times/month

Promote their blog

posts online, via email and via social media

More Leads

Give them a seat at the table when planning a lead generation campaign

Help them develop and package their thought leadership into whitepapers that can be used for offers

Install the right marketing technology and infrastructure (like HubSpot) for lead acquisition and capture

Promote their thought leadership in a variety channels and with the right amount of frequency

Accelerate the Sales Pipeline

Use marketing automation and put together a drip campaign for them

Create additional pieces of content that are contextually relevant for helping deliver the right information to the right prospect at the right time in their sales decision-making process

Close More Sales and Close Them Faster

Give them access and teach them how to use your firm's CRM

Give them

sales training

Give them access to all of their relevant marketing or sales metrics
But Wait!! There's More …
Being able to cross the marketing/retention threshold for your rising stars will involve more than just inbound marketing. There's a whole world of 1:1 marketing (networking, referrals, word of mouth, trade association involvement, etc.) that must be part of the rising star's personal branding or marketing plan, too.
One of the common themes that's familiar to my blog readers is that marketing is a matter of selection and balance between competing traditional and digital strategies and tactics. Figuring out that selection/balance equation is just as difficult for a personal branding initiative as it is for a niche marketing plan … you can't put your personal branding or marketing plans into one tactical basket.
I hope I've given you a lot to think about when it comes to stretching the boundaries of your firm's retention strategies. Part of my mission as a blogger is to stir the pot with new ideas and insights that ultimately serve the firm in the way of getting more visibility, leads, and new business.
While it's a lot to think about, firing up the ol' 8 track and sticking in Electric Ladyland may be just the tonic you need to simulate other innovative thinking about how you can use inbounding for retention. And if you really want to fire up your muse, find those bell bottoms and tie die shirts you put away a million years ago and put them on ... peace sign optional.