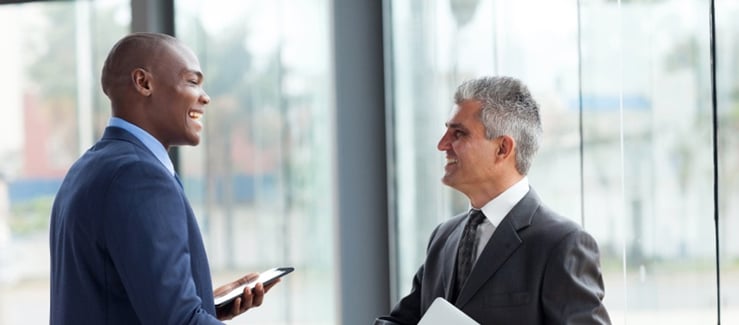 Across all different kinds of businesses, momentum has been building for turning marketing departments and functions into revenue centers instead of merely being a cost center.
CEOs are moving away from employing Chief Marketing Officers and instead, are hiring Chief Growth Officers, they're demanding accountability, they want documented results showing ROI, they're capitalizing on the availability of easily collected and accessible data, they're looking to decompartmentalize marketing and sales functions... and whole lot more.
Is your accounting, law, consulting, or staffing firm making this transition, or is it business as usual?
The One Question Every Managing Partner Should Be Asking
While on the face of it, the concept of moving marketing from "cost center to revenue center" makes sense, it may not be the right move or the right time for your firm.
You may not want to invest in a growth strategy because you're focused on the bottom line. Or, you may be in an enviable position where what you're doing to generate new business is so successful that investing in making improvements just isn't smart. Or, you may be in a position where you simply cannot take on more new business.
But if these don't describe your firm's current position, then making the "cost to revenue center" transition needs to move further up on your radar screen.
At the very heart of this transition lies a nuanced question that every managing partner (and the executive team) needs to ask about the line items in the marketing budget:
"How will this spend generate revenue?"
When you use this question to vet budget requests like developmental costs for a new website, putting on a webinar, doing paid digital advertising, or even hiring new business development staff, you're starting the transition from marketing as a cost center to marketing as a revenue center.
Continuing Your "Marketing as a Revenue Center" Journey
A willingness to use the one question is the harbinger of a change in mindset about the role of marketing in your firm. That change is a fundamental step in the journey. Coupled with a passion for growing the firm, hiring a Chief Growth Officer, and a willingness to invest in necessary marketing technology and infrastructure, you'll have the basics for the journey ahead.
The journey will not be easy:
Installation of a marketing operations department will require new positions and affect hiring needs.
Changes will come in the form of building stronger relationships between the marketing team and business developers.
Partners—even the reluctant rainmakers—will need to be more involved in helping to build and execute growth strategies, and their actions (or lack thereof) will be exposed to the harsh light of tools that measure results in newer, different, and better ways.
Your Growth Officer will need a full seat at the executive committee table.
Marketing analytics and metrics will become a critical agenda item at executive team meetings, and at niche practice levels of the company.
Legacy spending will come under scrutiny.
Being the Champion of Change is a Managing Partner Responsibility
Like any major organizational change, expect resistance. That's why championing and managing the "cost to revenue center" change is a Managing Partner responsibility. This is an initiative that can best be implemented with a crawl-walk-run approach.
It needs to start with an understanding of the implications of the decision—people, processes, technology, outcomes, investments, and so on. Frankly, if you can't get your shareholders on board after presenting a benefits/implications analysis and answering the WIIFM question ("what's in it for me?"} to their satisfaction, making the transition simply won't work.
You've got your work cut out for you.
Helping You Become a Champion is LeadG2's Responsibility
We're available to so some brainstorming at no cost or obligation about how you can move your firm's marketing function from a cost to a revenue center. The combination of our professional services marketing experience, our firm's sales consulting DNA, and our credentialed expertise with marketing technology gives us insights (and battle scars) that you will find of value.
Call me a (585) 750-8258 to schedule a 30-minute conversation, or click here.
In the meantime, I'd like to leave you with some refence materials authored by LeadG2 and other industry experts addressing the marketing cost to revenue center transition. Simply click here (or click the button below) for an immediate/no-form-required download.