Marketing/Business Development Alignment in CPA, Consulting, and Other Professional Services Firms
Our wives dragged me and my friend Greg kicking and screaming to the movies the other day, where we ended up paying a ridiculous sum of money to see a romantic comedy that frankly, I would not bother with even when it enters the realm of "free movies."
(But then again, I'll be paying a cable bill for the privilege of getting it "free," so. Hmmmm...)
Before the movie started, perhaps as a way to get our minds off of the upcoming torture, we had a really interesting discussion about how disruption has become the new business model (think Uber, Airbnb, etc.). He was telling me about how they're developing a whole new business model for his company by partnering with a manufacturer to cut out middlemen and sell direct to customers, with the upside being the ability to sell a higher volume of products at a lower cost and greater margins. Take it as a measure of faith that in Greg's industry, this is a pretty radical idea and approach.
And the best part? His competition was clueless. "But there's a fly in the ointment," he said. "The manufacturing firm's accountant is raising a huge fuss and being a roadblock. He's concerned that it's going to backfire because what we're doing is not the way it's been done in the past."
I sympathize with Greg, because even though disruption seems to be the new mantra of business these days, there are always going to be owners and senior managers who are comfortable (and successful) with "the way things have always been done," regardless of the upsides of disruption. When it comes to marketing and business development in professional service firms, "the way" is referrals, networking, and word of mouth.
But maybe it's time for a little bit of disruption.
Any Partners NOT Interested in Getting More Sales From Better Qualified Prospects, Faster and Easier?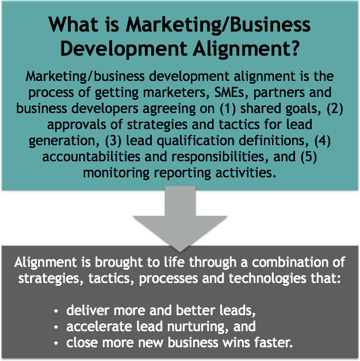 Before you read further, I'd like to make something clear: I'm not talking about replacing 1:1 marketing, like networking or schmoozing. Today and into the foreseeable future, it's going to be the primary way that you'll retain clients and secure new business.
What I'm talking about is disrupting the relationship between your firm's marketing resources and your partners, business developers, and subject matter experts with the goal of getting more sales, from better qualified prospects, faster and easier. Right now, that relationship in most firms is dysfunctional and sorely in need of being disrupted.
What if the marketing and business developers in your firm got together and…
… agreed on what niche practices really and truly deserve marketing support and resources
… concurred on the pains and issues facing prospects and clients in that niche
… pinpointed specific programs, products, solutions, or services for those pains
… brainstormed ideas for lead generation and lead generation campaigns around those products, services, or solutions
… agreed upon how to qualify a prospect and how to develop a score for determining when it was appropriate for a partner or business developer to make contact with a prospect
… defined specific measurable goals for the niche's marketing and new business development efforts
… measured everything
… put all of the above into a written agreement that specified roles, responsibilities, and accountabilities.
So what I'm suggesting is that disruption can come in the form of doing something different in the way that marketing and the business developers in the firm—be they partners or a sales team—interact.
This disruption is going to take the form of an alignment between marketing and business development built on new strategies, tactics, tools, and technologies.
The Brave New(ish) World of Marketing/Business Development Alignment
Simply put, marketing/business development alignment is getting marketing and business development resources—be they partners, subject matter experts, or a sales person or team—all rowing in the same direction toward a common destination.
Truth be told, this is a not a new concept, but what is new is the disruptive power of today's digital marketing technologies that makes the process and execution of alignment easier. Lead acquisition and management software. CRM. Content marketing and management software. Keyword structuring software. Email platforms. API integrations. PPC. Social media platforms. Metrics and reporting management. Marketing automation … and more.
Here's the cool part: not only can these technologies and tools be used to help with 1:1 sales development efforts, they're now at the core of the ways that accounting, recruiting, and other consulting firms can do "1 to many" marketing.
When marketers and partners get together and come to an agreement on what, when, why, how, and who has responsibility, you've got the basics of marketing/business development alignment at hand.
The Power of Disruption in Marketing a Professional Service Firm
What I'm writing about—and will be writing about in a number of upcoming blog posts—is just another rung in the ladder of marketing disruption available to CPA, consulting, and other professional service firms that started way back when with templated websites and has evolved to the availability of sophisticated inbound marketing programs.
Think about this: even though marketing and sales in every single professional service firm in the world has been affected by the disruptive power of the internet, there's still relatively few firms that are using this power, combined with digital marketing best practices, to harness the disruption to their advantage.
There's a lot of work to be done, and not all firms will see the value of doing that work or be willing to make an investment in a marketing/business development alignment harness. My guess is that the more sophisticated and entrepreneurial firms will see the light a lot sooner than later.
It's a pretty sure bet that the owner of the manufacturing company partnering with Greg will get the CFO to see the light and harness the power of the disruption that's moving inevitably toward implementation.
And while that's continuing to move forward, Greg and I will continue to wonder, ponder, and kick around ideas for getting our wives to agree to see the types of movies that we really want to see. We just can't seem to figure out a way to disrupt the inevitable march toward the next romantic comedy.