Survey Reveals Some Interesting Data
The research team at Ascend2 published the "Digital Marketing Plans Survey." If you are involved in your firm's marketing and sales efforts, it's a worthwhile read.
One of the observations they deliver is a comparison of important goals versus the significance of the barriers for achieving those goals.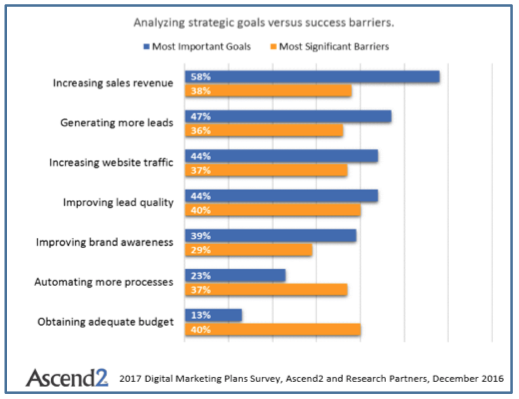 Professional Service Firms Need to Increase Sales and Generate More Leads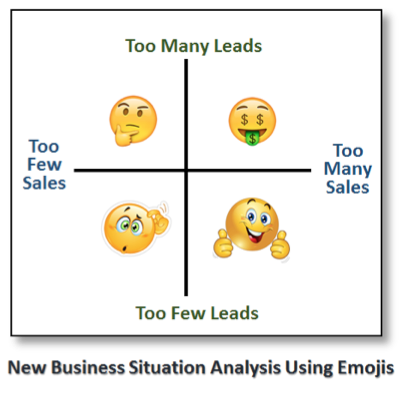 In another blog post, we put together a matrix to help you capture your new business situation. Sure, it was a little tongue-in-cheek because it used emojis to make a point (or several points), but at the core of this matrix lies an inescapable truth: CPA, consulting, law and other professional service firms need to increase sales and generate more revenue.
The Ascend2 Survey confirms that these are not only the most important goals for firms, but that these firms also face the most significant barriers.
Is your marketing/sales plan built around specific goals, strategies and tactics for overcoming obstacles and hitting your numbers?
4 Blunt Questions for your Firm's Marketing and Sales Committee
If your firm is in the too-few-sales/too-few-leads quadrant, I have four blunt questions: (1) have you specified marketing and sales KPI's, (2) do you have the fundamentals of marketing infrastructure in place that will help you overcome barriers, (3) will doing more of the same tactics you used in the past get you to those desired KPI's?
For example, if your firm is always fishing at the bottom of the sales funnel–waiting for a referral or an over the transom prospect inquiry instead of proactively marketing–is something going to happen in the future that you can count on to accelerate leads and sales?
If your answer is "probably not", then here's the fourth blunt question: Are you willing to break old risk aversion habits and make an investment in your growth?