"
We don't need any more marketing," said the partner.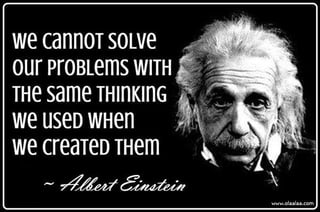 As I was waiting in the coffee shop the other day to meet with a lead from a referral I got, I reviewed my pre-meeting notes. Just by looking at their website, I had a number of insights and recommendations ready for discussion.
We exchanged a few pleasantries, played the "who do you know" game, talked about the chances of the Bills this year (optimistically), and then turned to the marketing discussion.
The conversation went something like this:
Me: "So, I appreciate the chance to talk about marketing with you. What are some of the marketing and business development challenges you're facing when it comes to growing your practice?"
Contact: "We don't need any more marketing."
Me: "Are you doing more than referral marketing?"
Contact: "Why sure. We have a website. We don't need to do any more marketing."
You get the drift right? And yes, I did pre-qualify as I talked to the lead when setting the meeting. Suffice it to say that this was an unproductive use of time for the both of us—not to mention the parking fee and two cups of coffee that came out of my pocket.
It is apparent this lead is happy with what they are doing and uninterested in learning about other avenues or opportunities to grow their firm. It's quite possible to argue that what was really required here was some marketing education, but education only works when there's curiosity. This is clearly a case of a firm happy with what they are doing but who aren't curious when it comes to how, what, when, where, and why their firm is marketed.
4 Choices for Getting More Firm Growth
If growth is truly an issue and an objective for your firm, then you have 4 choices for reaching that goal, each requiring deeper and deeper levels of curiosity:
Do Nothing More – This approach assumes that you're happy with what your firm is doing for growth and that you'll reach your goals with little to no additional investment in marketing or sales enablement. Curiosity generally doesn't exist if you've made a decision to maintain the status quo.


Do More of the Same – This approach assumes that your marketing and sales enablement tactics are producing results, but you're not happy with the quantity of the results. So, to get to where you want to be, you don't need to make strategic or tactical change, but merely have to add additional resources in the hopes that you'll see ROI in terms of more new customers and sales.


Do More Marketing – Investing more in marketing needs to be done with the twin objectives of increasing visibility and generating more leads. For most firms, this means putting more resources into digital marketing—inbound marketing, content marketing, social media marketing, and marketing technology like HubSpot. You need to be very curious as you embark upon this path.


Do a Better Job in Sales – For firms that have a sufficient number of sales qualified leads that have resulted from 1, 2, or 3 above, but who have a relatively low rate of turning those leads into sales, then you need to get curious. It's likely that you have a problem with the skills of your sales or business development resources, be they dedicated staff or a partner/owner. This means that investing resources into sales training may be prudent.
Get Curious and Do Some Analysis Before You Make a Decision
You can't possibly make a smart decision about which of these approaches (or combination of approaches) is right for your accounting, consulting, or staffing firm until you get curious and do some marketing math and analysis.
For example, are you seeing increases in website traffic and can you tie those increases to an investment you made in SEO, or blogging, or social media tactics?Do you know the conversion rate of visitors to your website to marketing qualified prospect?
Or, how about your closing rate for sales qualified leads that come from a referral?
Without doing math that shows the strengths, weaknesses, opportunities, and threats that your marketing and new business development efforts face, all you're left with is a SWAG (scientific wild assed guess) as to what approach will get you to where you want to go fast and effectively.
I think you need to do a lot more than conjure a top line growth goal and then make it an accountable task. You need to get curious.
That goal needs to be refined from number of new clients it will take, to the number of pitches needed to be made, to the number of proposals you'll need, to the number of leads that will get proposal opportunities, to what tactics will be used to drive lead gen, and so on and so forth.
(That's why we use a proprietary marketing math calculator as a key component of the strategic marketing planning work we do).
Smarter, Better, More Mindful Marketing and Sales Enablement Requires Curiosity
The science of marketing a professional service firm just keeps on getting more and more involved and challenging. Clinging to what worked five or ten years ago may be comfortable, but marketing and sales enablement isn't about comfort—it's about making the cash register ring more frequently and vigorously. Notice also, that I didn't mention the "art" of professional service firm marketing, because marketing is a lot more than just making things bright and shiny.
I believe that in order to do better marketing, firm owners, management committees, partners, and marketers need to get a lot more curious and ask some tough questions, like:
Are we doing the best we can to grow our firm?
What does our marketing math show us about where we need to put our time, money, and resources?
Are our competitors doing better—or worse—than us in their marketing program?
Are we committing marketing resources to the right strategies and tactics?
How will the investment in a new website help us reach our marketing objectives for visibility, leads, and sales?
Do we have the right people in place to do sales?
Do we have the right people in place to do strategic marketing?
Why are we spending budget on (name the item)?
Are we putting enough resources in the right places to reach our marketing goals?
Do we have the marketing literacy we need to make smart, educated decisions?
Can we get to where we want to go by doing nothing?
There are a lot more questions that can be asked, but they all have a common denominator: curiosity, and perhaps even more importantly, the willingness to be curious.
You might not like the answers, but the difference between being curious or not could very well be the difference between a marketing program that is part of the fabric of the company's growth or just a "because we have to have it" line item in the budget.