Is your marketing department helping you close sales by giving you "bottom of the funnel" content?
There's a lot of new thinking about the relationship between marketing and sales functions. Quite a few marketing gurus suggest that there needs to be a negotiated agreement about goals, objectives, strategies, tactics and each department's respective roles in moving a prospect through the sales funnel.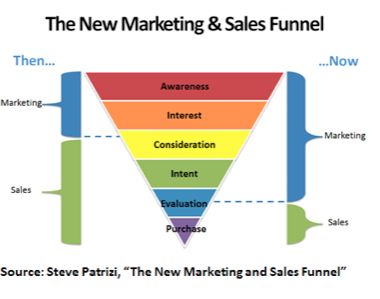 In most professional services firms, sales are a result of bottom of the funnel opportunities that come to specific partners in the forms of referrals or word of mouth. Typically, these leads come in over the transom as a result of a prospect facing an issue or problem that needs immediate attention.
Somewhere between 60% and 80% of CPA, consulting, law and recruiting leads are generated in this manner. Because it is a bottom of the funnel lead, partners need to close the sale using a combination of their personal charm and advertorial sales materials. Note that the other 20% to 40% of leads will come to the firm as a result of top of the funnel and middle of the funnel marketing strategies and tactics that (hopefully) are being designed and executed by the firm's marketers with some guidance and oversight by partners.
Part of the role and responsibilities that marketers have to partners is to arm them with appropriate content that will help them close the sale at the bottom of the funnel. Some of this can be forever green content that only needs to be written and published once, others can be developed by customizing a template, and some will need to be 100% customized.
Here's a list of 9 different types of bottom of the funnel content that marketers can and should prepare for partners seeking to close a sale:
Customized bios of the project team, wordsmithed to reflect the skill, experience and expertise needed or requested by the prospect.
Case studies that are relevant to the prospect's issues or pain points. Read this post from HubSpot on writing case studies and grab the free case study template while you're there.
Testimonials from clients and referral sources that speak to your firm's skills, expertise and character. These can be executed in written or video formats, and the closer their testimony is to the needs of your prospect, the more effective they will be.
Product, service line or niche sell sheets that tell a prospect what you do, how you do it, and why you do it better than competitors.
A customized video of the team that will be servicing the account, talking about their enthusiasm to have the prospect as a client, and to reemphasize the reasons why the prospect should select the firm.
A customized proposal that consistently references and addresses the prospect's issues and situation, rather than a rehash of the same advertorial materials they can find on your website or in previous communications. Nothing turns prospects off faster than generic, templatized proposals.
A clever, customized dimensional mailing piece that will differentiate you from your competition and create some buzz at the prospect's company. This can be something like turning your prospect's logo into a puzzle and then sending it along with a message that your firm can help them solve their puzzles.
A showcase of the homework you've done in preparation for the bottom of the funnel, like an analysis of what competitors are doing relative to the issue or hot button you're seeking to solve, along with insights about where and how your firm can capitalize upon competitive weaknesses you see.
A customized FAQ that addresses every question you think a prospect might have about your firm, your team and the solution you're proposing.
Content Marketing Strategy for Professional Service Firms
If your firm is happy with the number of leads you're getting at the bottom of the sales funnel, your content marketing strategy and tactics will be fairly simple, especially if you take the guidance in this blog to heart.
If you're not satisfied with the number of leads, or the number of qualified leads passed on to partners, the it may be time for a fresh look at your content marketing program.