DO YOU HAVE THE ELEMENTS NECESSARY TO CONVERT MORE WEBSITE VISITORS?
Your website is a crucial tool in reaching customers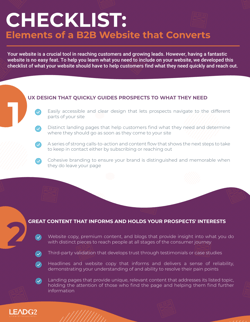 and growing leads. However, having a fantastic website is no easy feat. To help you learn what you need to include on your website, we developed this checklist of what your website should have to help customers find what they need quickly and reach out.
In This Checklist We'll Cover:
UX Design that Quickly Guides the Prospect to What They Need

Great Content that Informs and Holds Your Prospects' Interests

Is Your Site Well-Designed Beyond What People See?

Looking at Your Site as a Whole, How Does it Look and Feel to Use?
Fill out the form to receive the free checklist and uncover where you're winning and opportunities for improvement with your website design.