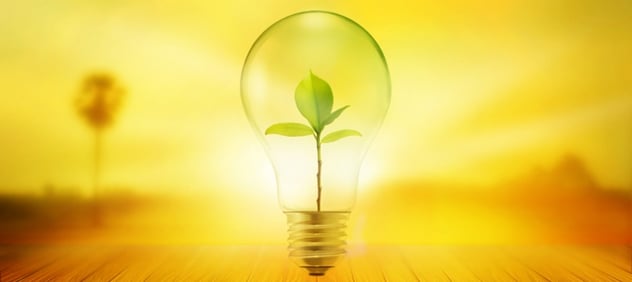 Does it sometimes feel like you're generating all this traffic to your blog, but the leads just aren't quite what you're looking for? Are you hoping for more qualified leads that match up with your ideal prospect? Or does your sales team simply think that too many of your leads just aren't ready to be contacted yet?
If this is the case then you've accomplished the initial steps toward inbound marketing success, which is consistently publishing great content and generating more and more traffic to your website. However, we all know the end goal is to convert this traffic to leads and these leads to customers, but what are you supposed to do with the leads coming in from Australia and India?
Well, with some focused content planning you can start nurturing some of your "not ready to talk" leads toward that initial appointment while also attracting more qualified leads to your site who are ready to talk. We like to call these different areas of content: top of the funnel (TOFU), middle of the funnel (MOFU), and bottom of the funnel (BOFU). This Sales Funnel & Content Plan image demonstrates the importance of gently guiding your leads through the sales funnel by starting with that general awareness content, moving them toward evaluating your services or products, and then eventually toward making a purchase decision.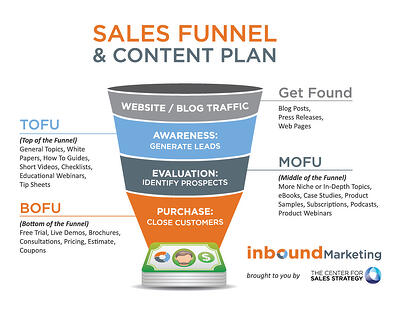 Top of the Funnel Offers and Why You Need Them
These are the types of things that appeal to people who aren't always within your defined target persona. However, this type of content is important because it's more likely to be shared with colleagues, on social networks, and attract a variety of people at all stages of the buying process. TOFU is still very valuable to your ideal prospects as well… especially the ones who are just starting to explore your industry and the options available (hint: many of these people might be a GREAT lead but just aren't ready to be sold yet).
Time to Start Identifying Prospect
While technically anyone who comes to your site and gives you their contact information in exchange for something is a new "lead," you really want to start focusing on how to identify true prospects that are ready to be handed off to your sales team. One of the best ways to do this is by adding MOFU and BOFU content to the mix.
What does this mean exactly? You need to think as if you were in the mind of a prospect that is preparing to make a buying decision:
What would they be asking one of your salespeople to elaborate on?

What kind of questions would they have with their internal team before signing a deal?

What objections would they have?

How would they compare you to competitors?
Compile a long list of ideas… and then start creating! Remember, you never want to sell your products or services, but instead you want to continue delivering quality content that will answer the questions they have. This could be a case study that shows off how particular objections were overcome with a past client or it could be a how to guide that dives in specifically to concerns related to your industry within your market.
The key is to think beyond the general topics and start adding to the mix both blog posts and downloadable content that might appeal to less people, but that you KNOW your target prospects would value. If you're having trouble coming up with ideas, try asking your existing clients for suggestions and definitely be sure to include your sales team in this conversation.
Finally, be sure to keep track of the content you have available on your site and regularly evaluate how balanced it is between TOFU, MOFU, and BOFU offers. This will make it easier to nurture those "not ready to talk" yet qualified leads through the sales funnel by sending them more and more targeted content and allowing you to evaluate where they are at in the process. After all, that's the magic of inbound marketing!
Interested in how using these inbound marketing strategies can help your company generate new leads? Check out our 30 Days to Inbound Marketing Success eBook for steps on how to get started today.