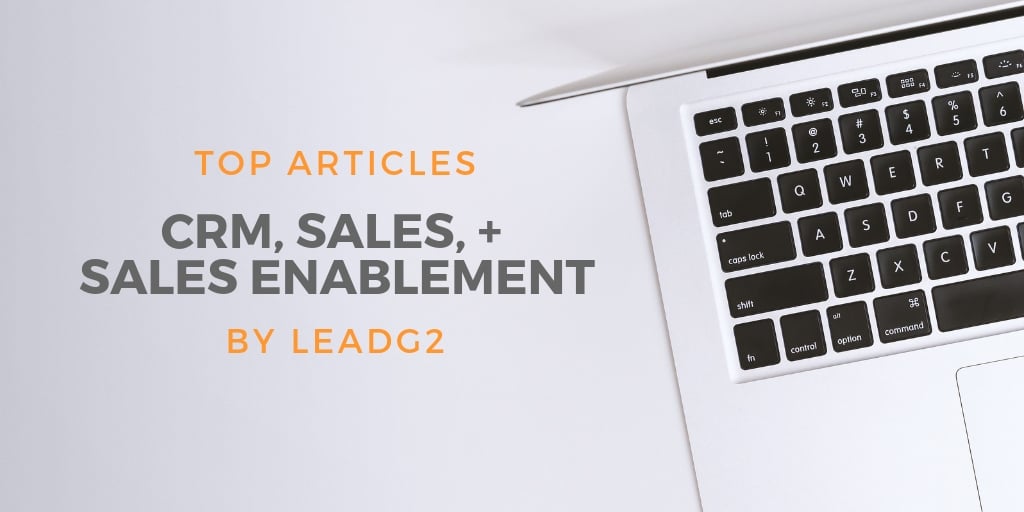 As a sales performance company, we help turn leads into customers and generate new revenue. CRM, sales, and sales enablement are vital to our clients' success, and today, we are bringing you a recap of the most popular posts we've published in 2018 on these topics.
We pride ourselves in providing our clients and visitors top-notch, quality content through our blog to teach them and guide them to success. We've searched for the most popular blogs of 2018, and we've curated these lists that will publish each day this week to bring you some of the most educational and informative content from the year. Check out these top blogs on CRM, sales, and sales enablement from 2018.
LeadG2's 2018 Top Blog Posts on CRM, Sales, and Sales Enablement
1. Sales Enablement Tools Are Bridging the Gap Between Sales and Marketing — and Winning More Sales
2. It's Not Inbound vs. Outbound: 4 Ways Inbound & Outbound Marketing Tactics Improve Each Other's Effectiveness
3. Why Is It Important that Marketing Automation be Integrated with a CRM?
4. Four Times an Inbound Lead Should Always Be Passed to Sales
5. How to Determine if the HubSpot CRM is Right for Your Sales Organization
6. 8 Reasons Media Companies Love the HubSpot CRM
7. Is Your Media Company Doing These 3 Things Yet?
8. Reverse Engineering the Sales Process: A Critical Element to Building A Sound Marketing Strategy
9. Hiring a Rainmaker is Not a Marketing Strategy
10. Four Reasons Sales Needs to be Onboard with Your Inbound Marketing Strategy
11. Lights, Camera, Action: Producing the Theatre of a Sale
12. 'Tis the Season for Setting Goals: 5 Analytics to Track in 2019 that Will Lead to Higher Revenue
These are the most-read blog posts on CRM, sales, and sales enablement from 2018, and we hope they provide insight to help you have a successful inbound marketing strategy in 2019. Cheers to a prosperous New Year!